The new pulp terminal at Montevideo port is used for receiving, handling and storing pulp and chemicals needed in pulp production. Operational since October 2022, the highly specialised, fit-for-purpose terminal targets maximum efficiency, with 80 people working in three shifts.
"The terminal works 24/7 every day of the year and it can handle over two million tonnes of pulp annually," says Andrés Rey. UPM operates the terminal on a 50-year concession.
"Looking around the world, there aren't many specialised pulp terminals out there with the same capabilities," Rey says, adding that he feels "so proud" to have been able to participate in the project since 2016, when its design phase started.
A total of 50,000 m2 of warehouse space has been built for the terminal operations. "There's enough space to store 150,000 tonnes of pulp," reports Rey who has been with UPM for 17 years – always in logistics.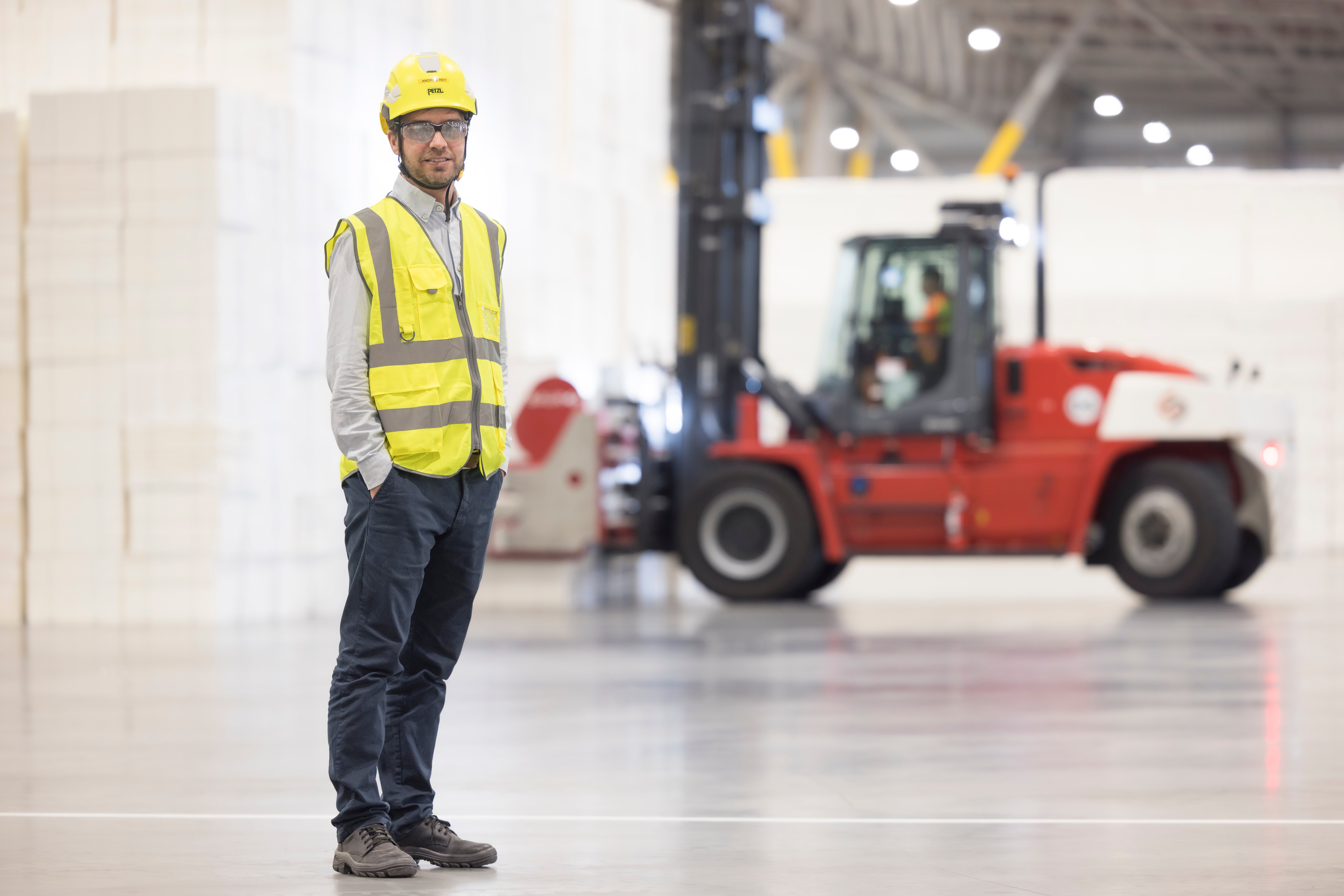 Andrés Rey has been part of the pulp specialised terminal project since its design phase
Powering up the pier
The current dock at the Montevideo port has been built to allow larger vessels to enter the port for cargo loading. Furthermore, the port depth has been increased allowing full shipments out from Montevideo. "Our pier is 240 metres long and can accommodate vessels up to 225 metres long, and with approximately 50,000 tonnes of pulp intake."
The dock can also handle operations of two very different types of vessels, making it unique in the industry: the pier can serve both tankers with liquid cargoes and general cargo vessels, with minor adjustments required and less idle time between them.
"This is one example of the design solutions we've made – allowing quick operative adjustments at the pier and high efficiency terminal operations at the same time."
In addition, all handling of pulp is conducted with extra caution. "We have pulp handling tools and systems that cause the least damage to the cargo. Best standards and practices are deployed to ensure quality at all times," says Rey.
The project also includes a 12,000 m2 roofed unloading area, which allows the unloading of cargo directly to the warehouse in all weather conditions.
Furthermore, the terminal features fully centralised systems to boost the flow of logistics. "It's totally different from what is the standard in Latin America," Rey promises.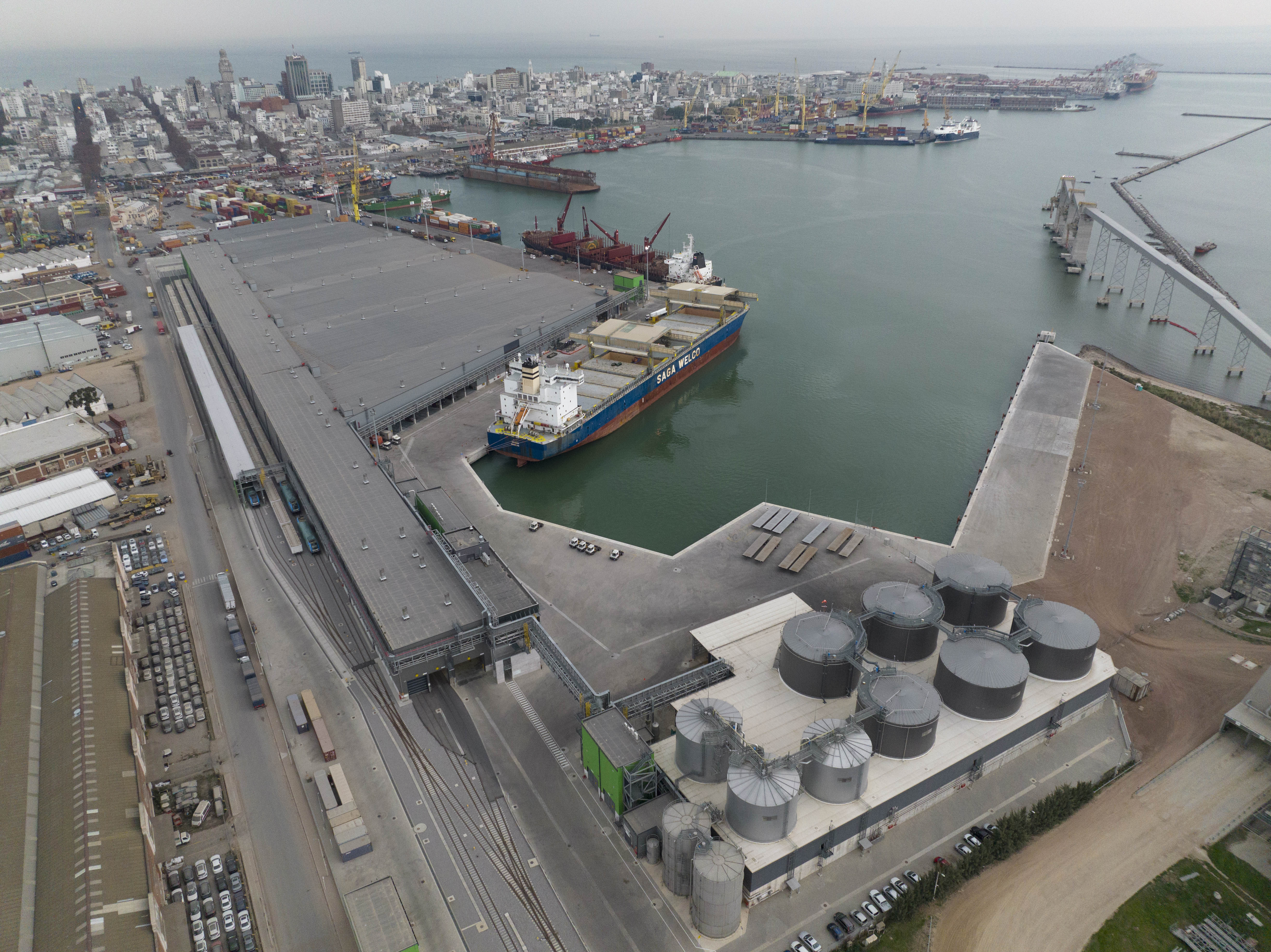 Going the distance
But how do you get pulp from the inland mill to the port? The Uruguay state is putting the finishing touches to an improved – and mostly rebuilt – railroad that will solve this issue, answers Rey.
"There is full railway access planned but it's not operational yet. In the meantime, we use trucks as an alternative means of transport." Along with pulp heading to the port, trucks are also en route to the mill with raw materials such as caustic acid, sulphuric acid and heavy fuel oil.
"At this time we have a dedicated fleet of 140 pulp trailers and 30 chemical tankers."
Still the trucks are only a short term solution and everybody at UPM Uruguay is eager to put pulp on the rails. "Rail is the most suitable transport mode for big volumes from, for example, economic, environmental and safety perspectives," Rey says.
All aboard the pulp train
As it turns out, the rebuilding of the 273-kilometre rail connection leading from Paso de los Toros to the capital is one of the most significant infrastructure projects in Uruguay's history. While UPM was very active in initiating the revamping of the railway, the connection will be state-owned and open to other users as well, including passenger trains.
As the government is finalising the railway connection, UPM is ready to shift logistics from road to rail – but only gradually. "Once the rail option is available, we will start to utilise it little by little, maintaining a good balance in logistics operations."
Eventually UPM expects that it will be running six daily trains, each carrying 1,664 tonnes of pulp.
Rey adds that the terminal is certainly "ready for rail" with five rail tracks leading directly to it. Two tracks are used for pulp, one for chemicals, while the other two are available for shunting and reserve use.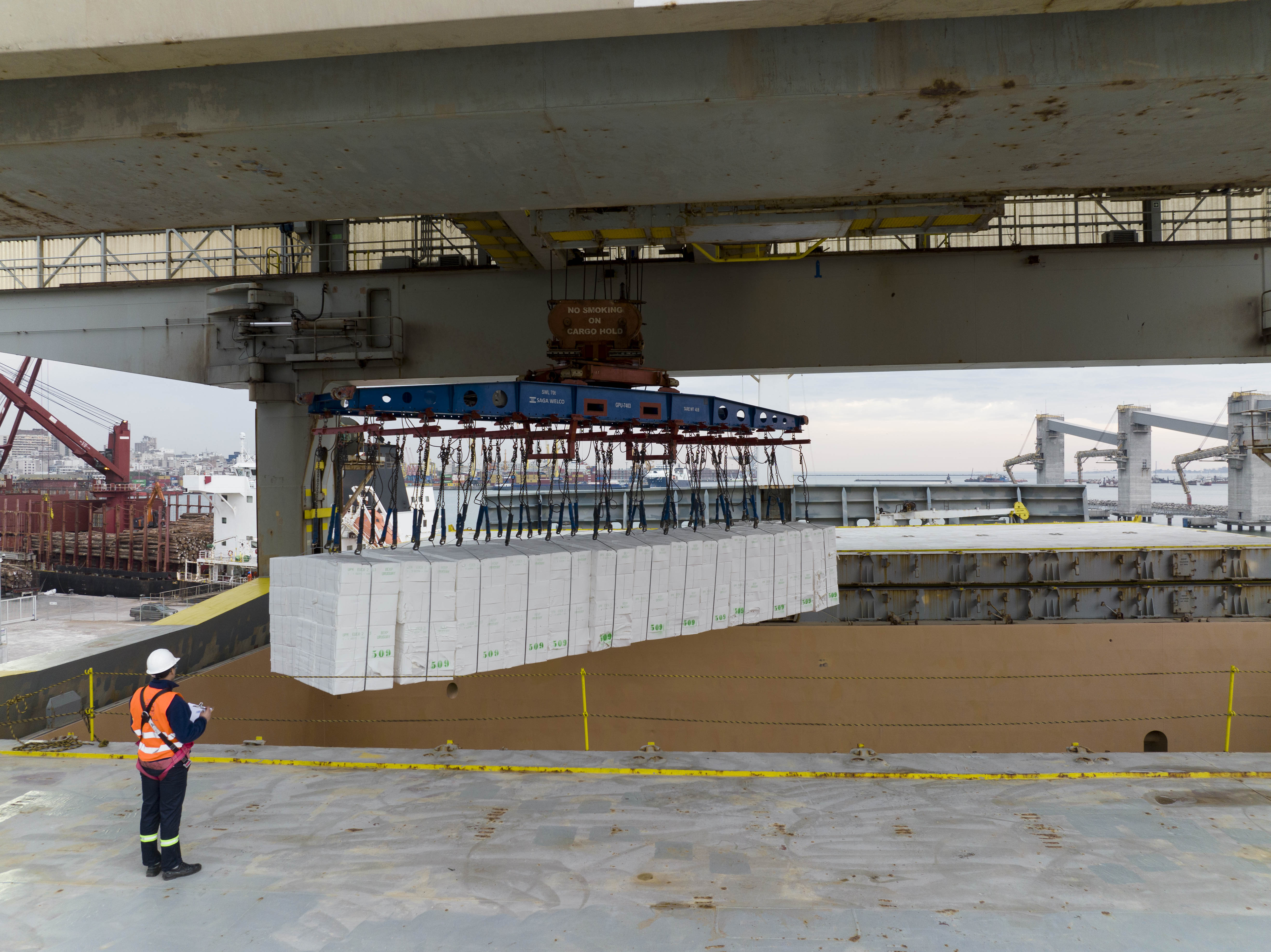 Practice makes perfect
Another piece of the puzzle is, naturally, the local workforce. Rey reports that some employees from the terminal went to UPM's Fray Bentos pulp mill to learn the ropes and came back with valuable knowledge that they could pass on to others.
"Also, we've brought instructors from Fray Bentos here to support our new crew, and we're using new training tools, such as crane simulators, to get our people ready."
While learning how to handle chemicals, for example, water was used in the training as a substitute before the real thing.
"We have learned the industrial way of doing things, with focus on automation and safety."
Eager to hit the ground running, Rey believes that all the planning and preparation is about to pay off very well indeed. "There are always some surprises along the way, but we're ready to start running the show."
Text: Sami Anteroinen